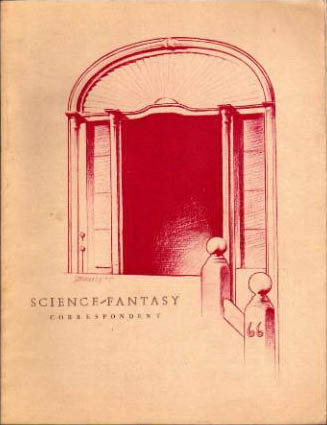 Year : 1975
Edition : 1st
Format : Trade Paperback (8.5 x 11, perfect bound) Hardcover, no dust jacket (See Notes) Pages : 64 (Trade paperback)
Illustrations : Robert T. McCall, Ron Miller, Edward Samuels
Contents
"The Guise of Youth" (poem) REH
"The Wine Dark Sea" by Robert Aickman
"New Settings: Villiers de L'Isle-Adam"
by Brian W. Aldiss
"First Patrol" by Joseph Bryan III
"To the House Subcommittee on Space Science Applications" by Arthur C. Clarke
"The Perpetual Honeymoon" by David H. Keller
"Fantasy Film News Bits" by Henry Kuttner
"Last Autumn Last Winter" by H. P. Lovecraft
"Hit and Run" by Joseph Allan Ryan
"In Search of Lovecraft: Caverns Measureless to Man"
"The Duke of Portland" by Villiers de L'Isle-Adam
"Psychology and Characterization" by Jack Williamson
"Odds and Ends" by E. E. Doc Smith
Notes
100 numbered copies with much new material were hardbound after the first World Fantasy Convention. What makes the hardcover edition special is the three manuscript reviews of the first World Fantasy Convention: nine pages by Fritz Leiber (signed by him at the first page), 40 pages by T. E. D. Klein, and 19 pages by Robert Bloch, the Guest of Honor.
There was no second issue of this revival.
From Bill Thom's excellent site:
http://howardworks.com/sciencefantasycorrespondent.html