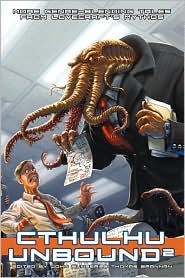 William Meikle: Another new anthology appearance today. Find out what happens when a regency heroine meets the deep old ones in my story "The Tenants of Ladywell Manor". Out now from Permuted Press. And check out the groovy cover
Synopsis
Imagine being free.
Free from everything that defines you, that makes you easily recognizable as who you are.
Inside you'll find Doc Holliday and the Earp brothers alongside a knight of the Round Table. The stock market will crash in a whole new, terrifying way. You'll follow along as heroes go head-to-head with eldritch horrors from Lovecraft's universe.
From Greek legends to Captain Nemo, from gangsters to brokers; from prisons to palaces, dead moons to South American jungles... No one is safe; nowhere is safe.
This is a Mythos collection unlike any other. This is Lovecraft in many colors, many guises.
This is Cthulhu-Unbound!