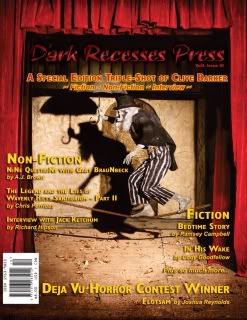 We interupt this blog for an announcement. Chrispy has been frequently asked - "when is PART TWO of your Waverly Hills essay coming out." Well, it's HERE. Part two exposits my hair-raising interpretations of my experiences in Waverly Hills. Pictures included. (It really was weird being there. Spooky stuff did happen.)
If you missed part 1
fear not
.
It's now FREE.
The publishers are taking a chance that if you like it in pdf, you're going to buy it and cherish it as a collector's item in print.
Get a free pdf here.
Who knows, with this economy, paper may become more valuable than gold leaf.
Click here.
for more news, and to order part 2. Fran Friel posted an image of issue 10, which I just received tonight. There's a contest to WIN a copy. Sign up.
More... here.